The CBL Roundtable is an invite-only program that seeks to assemble diverse perspectives from regulators, operators, and investors to expressly identify friction points and, more importantly, pragmatic solutions for everyone involved in the ecosystem.
The goal of the CBL Roundtable is to promote dialogue and thought-leadership around the evolving regulatory frameworks for new financial products and services.
The next CBL Roundtable will take place at UC Law SF on Thursday October 12, 2023.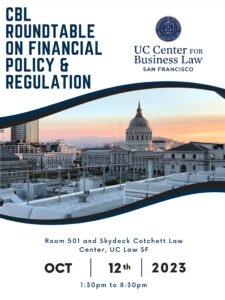 Agenda:
1:30 p.m. Welcome and Introductions
1:40 p.m. Keynote
2:00 p.m. The Evolving Litigation Landscape for Digital Assets
2:45 p.m. Coffee Break
3:00 p.m. The Future of Stablecoins in the U.S.
3:45 p.m. Coffee Break
4:00 p.m. The Role of Liquidity Management in Financial Services
4:45 p.m. Adjournment
4:50 p.m. Drinks/Cocktail Reception
5:30 p.m. Dinner
____
Past Programs:
III CBL Roundtable on Financial Policy & Regulation. May 24th, 2023
KEY TOPICS:
Keynote Speaker: Kristin Smith, CEO Blockchain Association.
The CSBS Model Money Transmission Modernization Act

Flavia Naves, Co-Director, CBL Roundtable; General Counsel, Circle.
Raj Aji, Chief Legal and Compliance Officer, Bill.com
Adam Fleisher, Special Counsel, Cooley

Digital Assets Regulation

Abe Cable, Professor UC Law SF and Faculty Director, CBL.
Jeanette Quick, Deputy Commissioner of Investor Protection, California DFPI
Mandeep Walia, Chief Compliance and Risk Officer, Circle
Katherine Kirkpatrick, CLO, Cboe Digital

Special Topics in Digital Assets: Bankruptcy, Partnerships, and Enforcement.

Evan Epstein, Executive Director CBL and Adjunct Professor, UC Law SF
Quincy Vien, Counsel, Enforcement Division California DFPI
Chris Daniel, Partner, Paul Hastings
Joshua Rivera, GC Blockchain Capital
Program SPONSORS
___
II CBL Roundtable on Financial Policy & Regulation. May 10-11, 2022.
KEY TOPICS
Keynote by Commissioner Clothilde Hewlett, California Department of Financial Protection & Innovation (DFPI)
Public Banking and CRA Regime for Money Transmitters.

Manuel Alvarez Director, CBL Roundtable
Kevin Stein, Chief of Legal & Strategy, California Reinvestment Coalition
Kevin Gould, EVP Director Government Relations, California Bankers Association

The Role of the State of California in Regulating Crypto.

Candace Kelly, General Counsel, Stellar Development Foundation
Edgar Gill, Senior Deputy Commissioner, DFPI
Anthony Alexis, Partner, Goodwin Procter

Diversity in the Boardroom Post SB-826 and AB-979.

Evan Epstein, Executive Director CBL and Adjunct Professor of Law, UC Law SF
Ahmad Thomas, CEO, Silicon Leadership Valley Group
Anne Sheehan, Former Director of Corporate Governance at CalSTRS. Director of Victoria's Secret & Co, and Senior Advisor at PJT Camberview.

Keynote by Senator Monique Limón, Chair of the California Senate Banking and Financial Institutions Committee.
Program SPONSORS:
____
The first CBL Roundtable was held at UC Law SF on November 12th, 2021.
KEY TOPICS
Keynote by Max Levchin, Founder & CEO of Affirm, Inc.
The Fate of Cryptocurrency
The Role of Technology in Closing the Wealth Gap
Incumbent Innovation
Program SPONSORS:
____
Check out this Q&A with Manny Alvarez about the origin of the CBL Roundtable.
If you want to learn more about the program, please contact:
Evan Epstein, Executive Director of UC Center for Business Law SF and Adjunct Professor, UC Law SF.
Flavia Naves, Co-Director of the CBL Roundtable for Financial Policy & Regulation
Leslie Hernandez, Faculty Support (for questions on logistics): hernandezleslie@uclawsf.edu