Startup Litigation Digest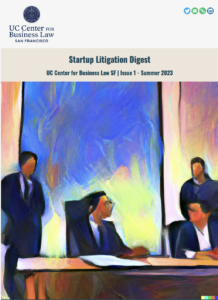 The Startup Litigation Digest attempts to shed light on the opaque world of private company litigation. Though startups may not face as many lawsuits as their public company counterparts, litigation by private parties and regulators is still a key feature of the regulatory environment in which startups operate. In fact, we suspect that both regulators and private litigants will increasingly focus on private markets given their explosive growth in recent years. Yet, little is known about startup litigation because these matters often hide on obscure dockets and rarely result in published opinions or widely read media accounts.
We intend to publish new issues of this digest on at least a quarterly basis. We hope that it becomes an indispensable source for understanding the litigation environment in the innovation economy.
We would love to hear from you. If you have feedback on this digest or know of litigation matters you would like to see highlighted, please email us at cbl@uclawsf.edu